Motorcycle Tires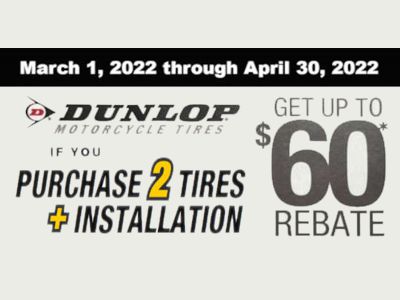 Get the best in mileage, handling and performance from leading tire manufacturers such as Dunlop, Metzeler and Michelin.
SAVINGS!!! As of May, 2018, we are now a DUNLOP PRO DEALER!! What does this mean for you? You save even more money! Give us a call today for current specials or you may find our specials on our Facebook page. If we don't have a Dunlop tire in stock for your bike, no worries, they are only a day away!
* Motorcycle Tire Promotion applies to Dunlop American Elite Motorcycle Tires only.
Tues. - Fri.: 9 am - 6 pm
Saturday:10 am - 1 pm
Closed on Mondays